We provide a range of fleet management solutions. The web based SPOTON family of solutions bring together the benefits of vehicle tracking alongside many data rich features.
From monitoring driver behaviour to preventing the theft of plant, a variety of solutions can be provided to help the Fleet Manager to increase efficiencies and reduce cost.
SPOTONweb is the online vehicle tracking portal underpinning all of BOX Telematics' solutions. Making it easier than ever to manage fleets with real time vehicle tracking, driving behaviour analysis and usage based reports. This all enables Fleet Managers to get an accurate insight of vehicle locations and road conditions when viewing historic journeys. No software install is required and SPOTONweb can be accessed via any smartphone, tablet or PC.
Fleet Management and Vehicle Tracking Solutions
Improve your Fleet Management efficiencies through utilising an intelligent telematics device coupled with an easy to use, smart vehicle tracking web portal. SPOTONfleet displays the live location of all the vehicles within a fleet.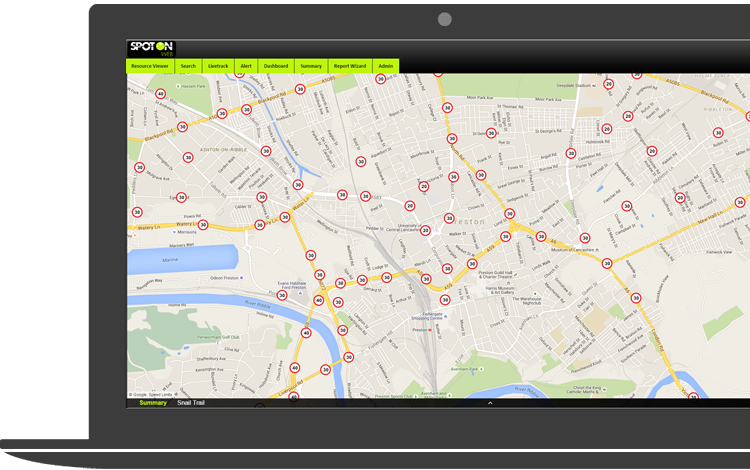 Fuel Efficiency Solutions
The most effective way to make fuel savings is to improve a driver's behaviour. SPOTONfuel achieves this by providing the driver with real time feedback on how they are driving. A Lightbar mounted on the dashboard will tell the driver if their driving is too erratic, or if they are braking too harshly. This then promotes a smoother, more cost efficient driving style.

Plant Equipment Solutions
SPOTONplant is the security solution provided by BOX Telematics to prevent the theft and misuse of plant equipment and agricultural assets. A rugged telematics device provides an accurate location of assets in SPOTONweb portal, where information can be viewed in real time.